 FERMATA
Legal Hold Automation
"The Fermata Legal Hold interface is intuitive and user-friendly enabling easy tracking, searching, cross-referencing and reporting."
SB
Paralegal
Top 75 National Trucking Company
Busy organizations need intuitive technology to drive efficiency.
Avoid Time-Consuming Integration and Customization Fees.
Reduce Your Risk
Stop Using Spreadsheets
Start Using a Defensible Hold Solution Today
Unlimited Matters, Notices, Questionnaires and Custodians
Add New Matters as Needed
What does your Legal Hold admin process cost today?
How much time does your team expend managing Legal Hold?
If you could free up a portion of that staff time, what is the organizational value of those hours?
Software brings efficiency but costs money.
If you were to use Fermata, what would the overall financial impact look like including the licensing costs? Is it positive or negative?
Features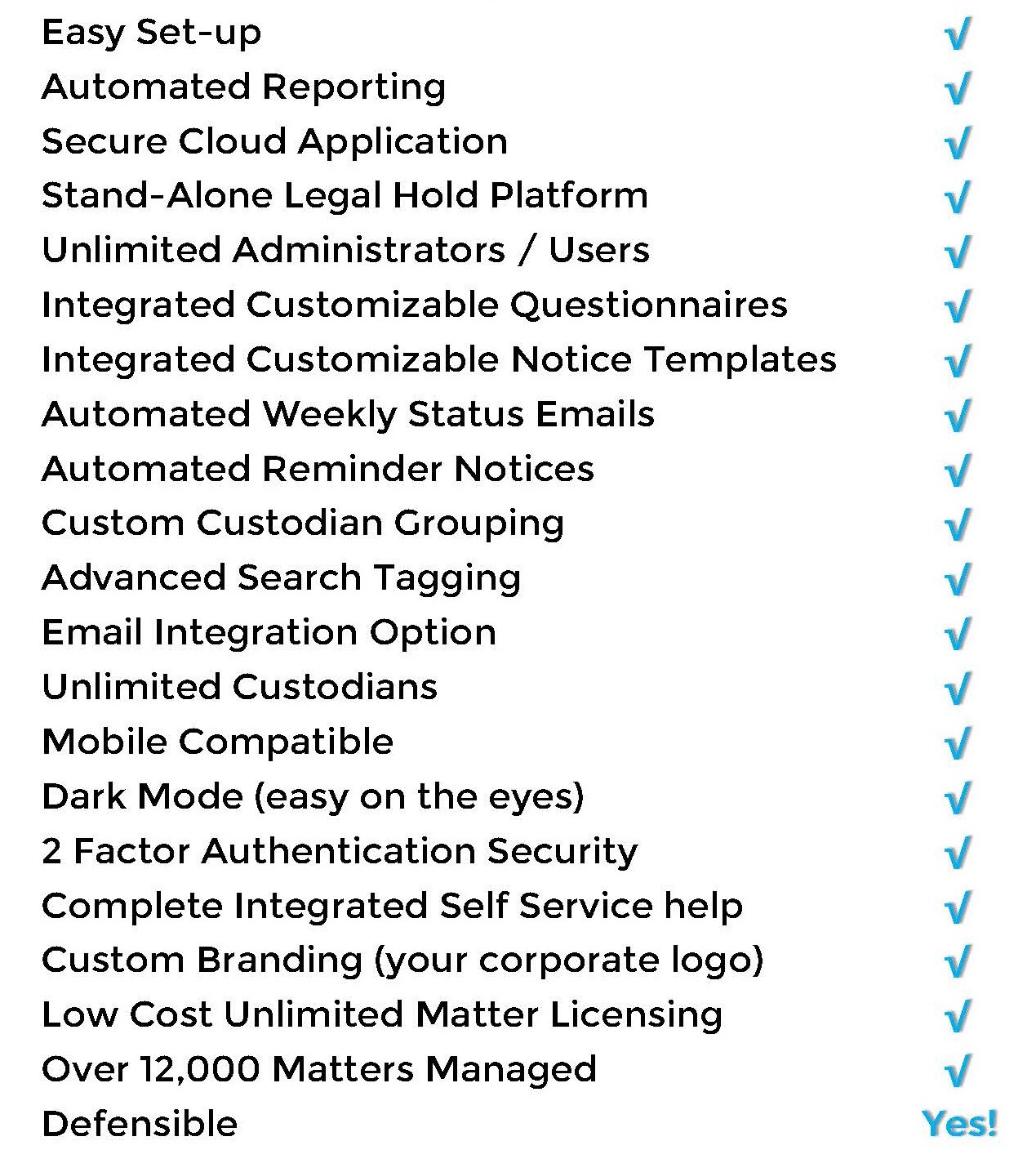 INCREASED STAFF EFFICIENCY
Opens staff's time up for other endeavors
REDUCED RISK
Automation ensures tracking and communication are auditable and defensible.
COMMUNICATION AUTOMATION
Ensures nothing is missed and deadlines are achieved.
ONE-CLICK REPORTING
Makes for fast easy & seamless tracking and accountability.
SECURE
Two-factor authentication ensures security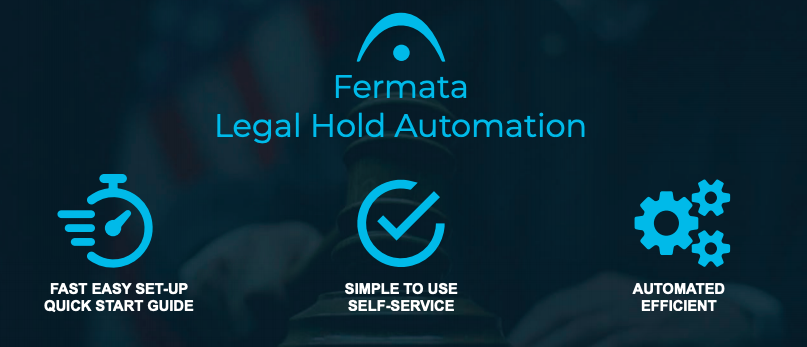 Manage Your Legal Hold in the Cloud
Automate Your Processes
Fermata Has Experience Managing...
"Managing Legal Hold with spreadsheets and email is tough. Not to mention time-consuming and costly."
Not with Fermata.
Here is What You Won't Have to Worry About: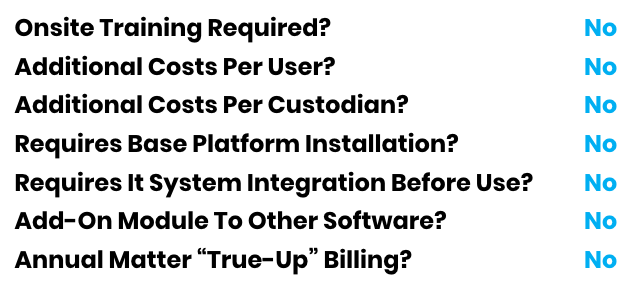 Easy to Set-up. Easy to Use.
Scalable. Defensible. Economical.
FRCP 37(e) obligates organizations to take reasonable steps to preserve ESI in the anticipation of or as a result of litigation.
Research Reveals the Average Duration of a Legal Hold Matter is Over 2 Years with 58 Custodians. Some have thousands of custodians.
Industries That Trust Fermata With Legal Hold Automation Include:
New to Legal Hold Automation? We Can Help!
Fermata Also Includes...
- Step by Step Set-up and Use Guides
- Library of Template Documents
- Interactive Function Overview
- Guide to Establishing a Legal Hold Policy
- Frequently Asked Questions